Hagi is a city located in the Yamaguchi prefecture in Japan.

The city is also famous for Shoin Yoshida, who left a big impression on Japanese history as he tried to make the old Japanese government more open to the outside world near the end of the Tokugawa (Edo) period.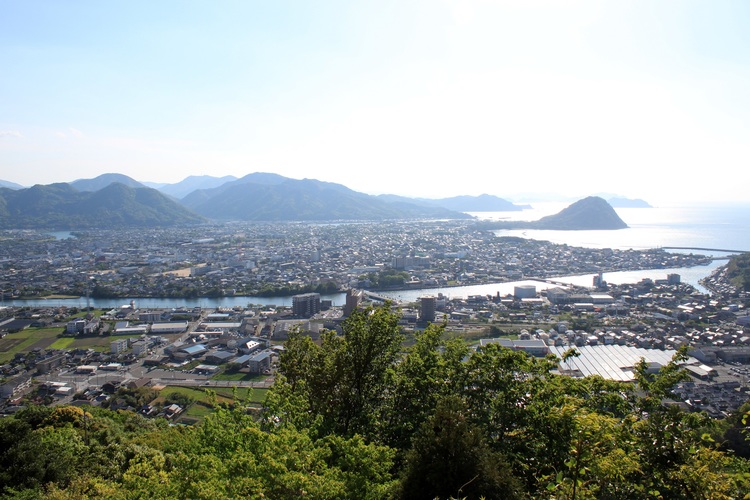 It's small city with a population of just around 50,000, but as a city on the delta of Sea of Japan, fish and other marine produce are abundant.

Furthermore, it has produced a lot of patriots during the late Tokugawa period, as well as the very first prime minister (Hirofumi Ito) in Japan.

The traditional Japanese craft of Hagiyaki originated from this historical city.

Even in the present day, there are many potteries who produce a large variety of products such as tableware, vase, accessories and even wand clocks.

Here I will discuss and elaborate more on Hagiyaki.

It's said that two Korean potters (Ri shaku kou and Ri kei) opened the first kiln in Hagi by the order of Terumoto Mori.

He was a feudal lord who lived there about 400 years ago and wanted to use Hagi ware for his personal tea ceremonies.

Since then the Hagiyaki has been rated as 2nd best ware for tea ceremonies in Japan.

The first place has been the Raku ware in Kyoto while the third one has been the Karatsu ware in Nagasaki.

How does the Hagiyaki attract people so much then?
The Features of Hagiyaki
C
lay
There are mainly two different types of clay used in making Hagiyaki.

The main clay is called Daido-zuchi, which comes from Hofu city in Yamaguchi prefecture, and it's strong against the heat.

The color of this clay is kind of white and is used as the base of the Hagiyaki.

Then it's mixed with the other clay called Mishima-tsuchi, which comes from the Mishima island that is 40 km away from Hagi city.

This one is a reddish brown clay because it contains a large amount of iron.

The color and overall appearance of Hagiyaki vary a lot and are largely dependent on how potters mix the two different types of clays.
N
anabake (The seven transformation)
Hagiyaki pottery is unique as it can change appearance depending on how it is used.

It happens because there are many small gaps between the two different types of clay and also due to their differential shrinkage during the baking process.

The coffee and incrustation go to those gaps, and as a result, a bowl or a cup of Hagiyaki changes its color.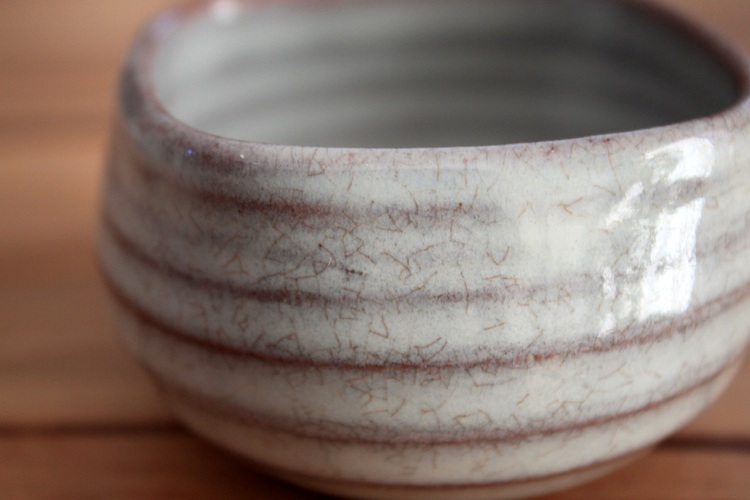 The more we use it, the more the color changes.

This is what we call Hagi-no-Nanabake.
A
Cut in Height
Another special characteristic of Hagiyaki is a cut at the bottom of bowl or cup.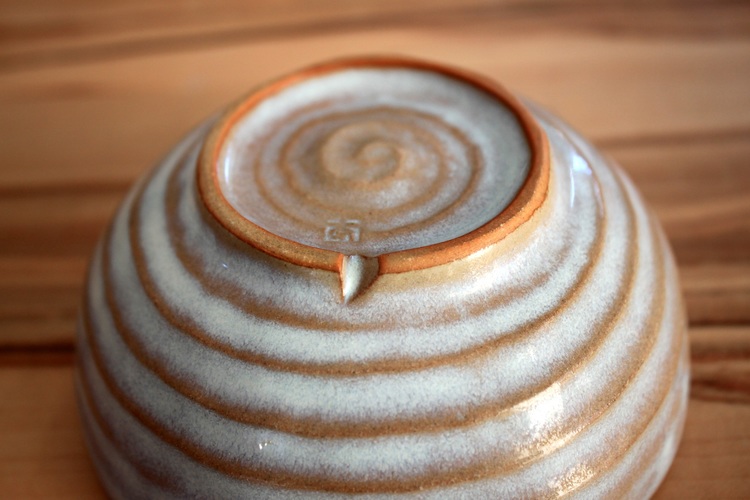 It's seen at the bottom beside the stamp of potter.

There are various theories, but it's said that in the past the Hagiyaki was made specially for the domain of Mori, so the lower class people were not allowed to use it.

As a result, potters began to make the cut intentionally and a cut has been inherited till now as a tradition.
G
laze
After the Hagiyaki has been made from the different clays and has received its initial bake, a glaze is applied onto its surface.

The potter repeats this process one by one to each piece of ware with his/her hands.

As a result, we can sometimes see subtle differences between each of pieces.
Isn't Hagiyaki Troublesome to Treat at Home?
Nowadays there are so many varieties of choice in Hagiyaki, such as a big one for the whole family, and small one for an individual.

We can choose different shapes of plates such as a circle, square, oval, as well as magatama (comma shaped).

It depends on the products, but normally they don't cost us so much for daily usage, as we can get a tea cup for 1000 yen (about 8 US dollar).

Don't you think it's worth to have one of them?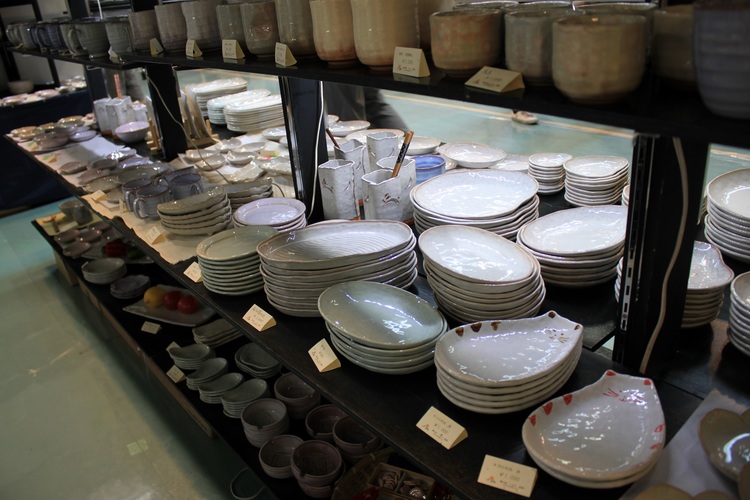 Look, there are plates shaped like cute cats!

Recently many of them are also made for the dishwasher and have strong durability.

Please ask the shop if it's ok to put it in a dishwasher.
Where Can We Get Hagiyaki?
Today we can get almost everything with one click on the internet, but as I have mentioned before, each product of Hagiyaki is different due to the handwork.

Therefore, I recommend going to a shop or pottery and check on your own.

Many potters in Hagi have own their shops and sell their products.

Furthermore, there are some places where tourists are allowed to experience making their own work.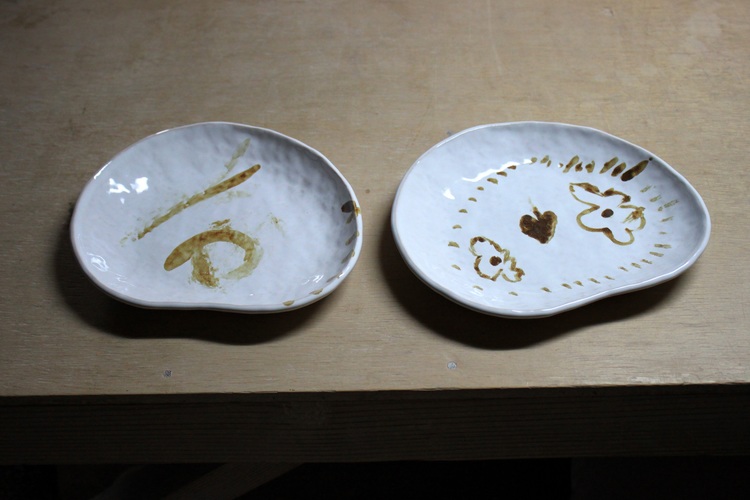 You will be very attached to your own creations.

The style of work differs from potter to potter so that it's recommended to visit couple of them to find what you like.

There are also Hagiyaki festivals in Hagi, held twice a year, where we can see the works of many different potters.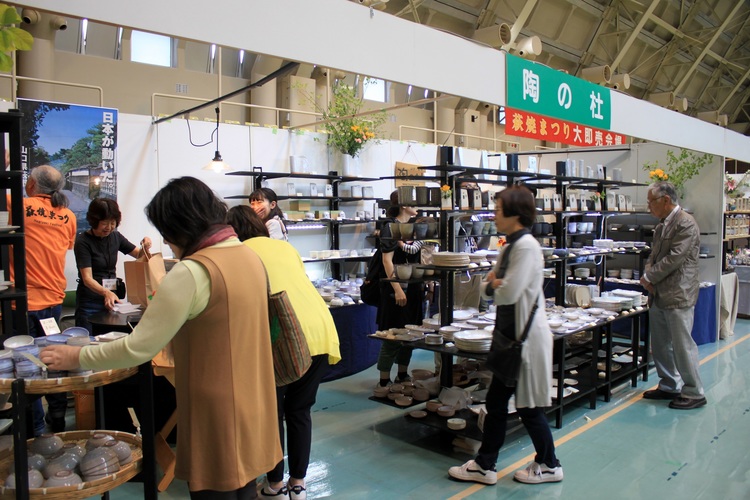 Hagiyaki festival in May at Hagi civic stadium

However, you don't have to worry when it's too far from your place, because a lot of exhibitions are held at many places throughout the whole year in Japan, where you can find ceramics and potteries from across the country, including potters from Hagi.

Below are some examples. Please check the details of those events on your own in case of any changes although they are held basically every year.
Tokyo:In the end of January-February at Tokyo dome 'Table ware festival'

Sendai:In July at Yume Messe MIYAGI

Himeji:In late October-November at Otemaekoen

Fukuoka:In March at Fukuoka Marin Messe

Kokura:In September at West Japan General Exhibition Center New Wing

Kumamoto:In late August-September at Grandmesse Kumamoto
Why don't you go and check it out when one of them comes close to you?

I hope you can find Hagiyaki in such a fair, which will be used in your daily life.

As you can see, Hagiyaki matches to all types of dishes.

It doesn't choose between Japanese or western food, it will compliment even desert like a piece of cake.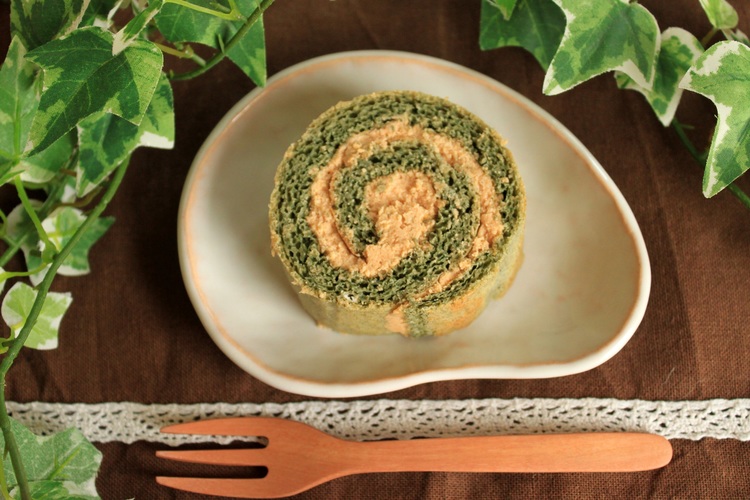 What is your impression of Hagiyaki?

Maybe you can try to find what you really like to use. I believe that once you find a favorite one, it brings you comfortability and warmness, and makes your daily life little bit happier than before.