Awa Odori (dance) is Bon Odori (dance) performed in each area in Tokushima Prefecture. (Awa is the old name of Tokushima, and Bon Odori is a Japanese Buddhist custom to honor the spirits of one's ancestors.)

In particular, Awa Odori in Tokushima City is the largest Bon Odori within Tokushima Prefecture, which is well-known nationwide.

You may have heard the famous phase of the Awa Odori song "Odoru aho ni miru aho, onaji ahonara odorana son son! (Fools dance and fools watch. If both are fools, then dance, or you'll lose big!)"

Awa Odori in Tokushima City is held for 4 days from August 12th throughout 15th every year.

Over 900 dance units called "Ren" composed of corporations and students, and a total of 100,000 dancers participating in the event throughout the period.

Although there are various views on the origin of Awa Odori, they say that it became popular since the province of Awa flourished with the commercial activities of indigo dye and salt that were shipped and sold to Edo and Osaka during Edo period(1603-1867) where the local government was administered by clans.

In Tokushima, indigo dye merchants and Awa Odori were deeply related each other, for example, successful and rich merchants in the indigo dye business started competing by wearing yukata (casual kimono) with store logos, bought costumes for dancers, supported Awa Odori by introducing Joruri (puppet play music) as well as contributed to the economy development of the castle city.

Awa Odori had survived from some adversities such as the decline of commercials and tight regulations by the local government, and was once forced to stop during wartime.

It then revived again in 1964 and has developed into a well-known Bon Odori throughout the country.
What is "Ren"?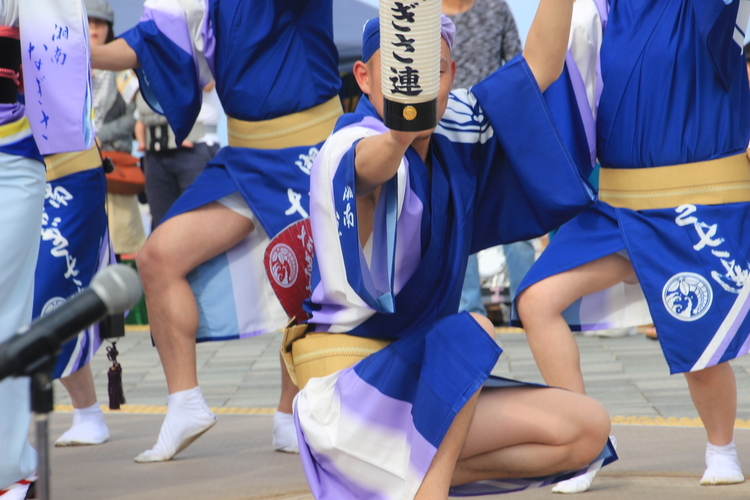 Here, the unit composed of dancers and musicians (who play Taiko drums, shamisen guitar, and Japanese flutes) is called "Ren."

Groups of 20 up to 300 dancers participate in Awa Odori.

Those groups fall into several categories: "Yumei Ren, groups registered to the Association, "Gakusei Ren, groups of school students, such as universities and elementary schools," "Kigyo/Shokuba Ren, groups of corporations and workplaces," and "Ippan Ren, groups of local residents and dance performers."

Particularly, you may want to pay attentions to "Yumei Ren", the groups of highly skilled dancers perform in public all year round.

Awa Odori Hall located in Shinmachi-bashi, Tokushima City, holds Awa Odori performance
every day.

"Senzoku Ren," the dance group who works exclusively for the Hall performs in the afternoon shows, and one among several groups from "Yumei Ren" performs in the evening shows in rotation.

Even if you are not in Tokushima during August 12-15 when Awa Odori festival is being held, the Awa-Odori Kaikan (Hall) provides you an opportunity to enjoy Awa Odori any time of the year.

In addition, "Niwaka Ren" is available for tourists to jump in and join the dancers.

Although no advance registration, deposit, or dress-code is required, rental costumes called "Happi" are available if you are interested.

During the Awa Odori Period, the dance performance are held twice at 18:30 and 20:30 on the west side of the Awashin Friends Plaza (Tokushima City Hall Citizen Square) and Motomachi Performance Center, and you can also take lessons from "Yumei Ren" dance groups.
Types of Awa Odori and Costumes
Despite a variety of Awa Odori styles depending on dance groups called "Ren", fundamentally Awa Odori is categorized into "male dance" and "female dance."

In male dance, a male dancer wears Yukata and wraps a Tenugi-towel bandana around his head and holds a fan in his hand.

The basic dancing posture is to keep the waist low and take a forward leaning.

Put up both hands with palms facing each other, and move the right toes forward from the state you put your weight on the left foot with rhythm.

At this time, put the right hand forward along with the right foot simultaneously.

Then switch to the left hand and left foot.

It is spectacular to watch the various expressions and the contrast between dynamic and static dancing movements along with the rhythm.

In the female dancing style, a female dancer wears Yukata and wooden heeled sandals and puts a pointed straw hat on her head.

First, lightly bend your knees while keeping tiptoe, and lean forward.

At the same time, move your right hand forward as well.

Dance left-and-right repeatedly with the tempo of the music.

It is magnificent to watch every single dancer dance in sync by paying attention to the tip of hands.
Awa Odori Song and Music
Awa Odori consists of the song called 'Awa Yoshikono' that is sung in a relaxed manner along with the live music with Taiko drums, Shamisen guitars and the flutes.
W
ords of "Awa Yoshikono" Song
Erai Yaccha Erai Yaccha

Yoi Yoi Yoi Yoi

Awa no tonosama Hachisuga sama ga
(The king of Awa, Hachisuga)

Ima ni nokoseshi Awa Odori
(has preserved this Awa Odori up to now)

Erai Yaccha Erai Yaccha

Yoi Yoi Yoi Yoi

Sasayama toureba sasa bakari
(when walking through Sasa bamboo mountain, you see nothing but Sasa leaves)

Inoshishi mame kute houi hoi hoi
(wild boar eats beans)

Fue ya taiko no yoshikono bayashi
(Yoshikono music played with flutes and Taiko drums )

Odori tsuki senu Awa no yoru
(dancing all night through in Awa)

Erai Yaccha Erai Yaccha

Yoi Yoi Yoi Yoi

Odoru aho ni miru aho, onaji ahonara odorana son son!
(Fools dance and fools watch. If both are fools, then dance, or you'll lose big!)

Erai Yaccha Erai Yaccha

Yoi Yoi Yoi Yoi

"Awa Yoshikono" is considered a song arranged from the song of Ibaraki prefecture called "Itako-bushi".

The folk songs popular in the late Edo period were considered the origin of 'Yoshikono, currently sung in Awa Odori" when the indigo merchants and sailors brought back to their homeland, Tokushima.

Meanwhile, some say that the music called "Zomeki" oritinated from the "Haiya-bushi" in Ushibuka, Kumamoto Prefecture, and the "Yassa-bushi" in Hiroshima.

As you can see, the blend of the culture brought from outside by merchants and the original local culture and tradition formed the Awa Odori.

Eventually Awa Odori spread all over the country as a result of Tada Koyurugi, a singer, singing "Awa Yoshikono-bushi (Awa Bon Odori song)" in 1931.

Consequently, the song name was changed from "Tokushima Bon Odori" to "Awa Odori" and has stayed in place.

The unique chant of Awa Odori contains a well-known phrase "Odoru aho ni miru aho, onaji ahonara odorana son son! Erai Yaccha Erai Yaccha Yoi Yoi Yoi Yoi" (Fools dance and fools watch. If both are fools, then dance, or you'll lose big)."

"Erai Yaccha" in the phrase means "It's tough, but 'm OK" and "Yoi Yoi Yoi Yoi" means "I will manage it somehow".

In addition, "Yat-sa"? means "How are you?"
Awa Odori Performed Outside Tokushima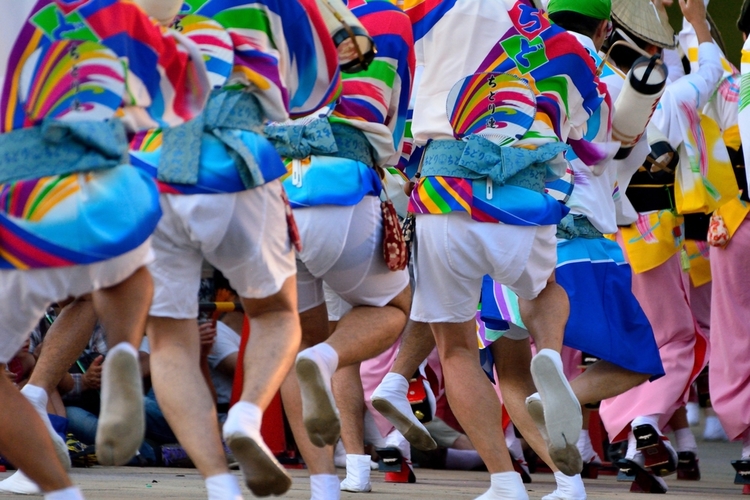 Awa Odori which has become well-known to the whole country is now perfromed outside Tokushima prefecture as well.

"Koenji Awa Odori" is held in late August every year at Koenji Suginami-ku, Tokyo.

In 1957, a youth group of the shopping arcade in Koenji started copying the Awa Odori of Tokushima that was a popular topic at the time, and it has become the place where the largest scale of Awa Odori among the places it is held in Tokyo.

In addition, "Minami Koshigaya Awa Odori" is held in late August every year at Minami Koshigaya in Koshigaya City, Saitama Prefecture.

Mr. Shunzo Nakauchi, an entrepreneur of a company headquartered in Koshigaya, is originally from Tokushima Prefecture, and he held the first Minami Koshigaya Awa Odori in 1985 to give back to the local people and to establish the new culture of Koshigaya.

It has grown to a very popular festival attracting many visitors.

In addition, you can watch Awa Odori called "Tokyo Otsuka Awa Odori" held in Minami Otsuka, Toyoshim-ku, Tokyo, and at "Kawasaki Awa Odori" in Kawasaki-city, Kanagawa, or at "Mobara Tanabata Festival" in Mobara-city,Chiba.