History of Kimono
Kimono is traditional clothing worn by the majority of Japanese people until the Meiji period(-1912), during which the government encouraged them to adopt western clothing and habits.

The shape of kimono has transformed with the times.

During the Heiain period(784-1185), the most lavish and complex shaped-kimono was designed for the nobles.

At present, it is seen especially in traditional events including royal events and ceremonies in Kyoto.

After the Kamakura-Muromachi period(1185-1573), kimono changed significantly.

In the Edo period(1603-1867), the basic kimono style was established and has remained unchanged until the present.

It had developed in various ways so as to meet customers' ornamental demands, such as dyeing, a woven pattern, or embroidery.

Moreover, distinctive traditional crafts developed all over Japan, such as Kyoto's Nishijin brocade and Yuzen-zome (silk printed by the Yuzen process), Kaga-Yuzen, and Echigo-chirimen (Echigo crepe).

It is not an exaggeration to say that kimono made the history of Japanese traditional craft art.

An influx of western clothing in the Meiji period(1868-1912) had gradually pushed Kimono out of their daily lives.

Eventually it became a special garment for important ceremonial occasions.

Nowadays, Japanese people rarely wear kimono in everyday life, but it is widely used for special occasions, a coming-of-age ceremony or a wedding ceremony, for example.

Today, traditional kimono is available via online at reasonable cost, although it was very expensive clothing because of its quality.

The arrival of the Internet significantly changed the affordability of the masses.

Young people are especially more interested in kimono.

Kimono is very popular for participants in prestigious ceremonies, such as the Nobel Prize.

Taking it into consideration, kimono is going to be a more important art to pass down its traditional beauty to future generations.
Types of Kimono
There are several styles for various occasions.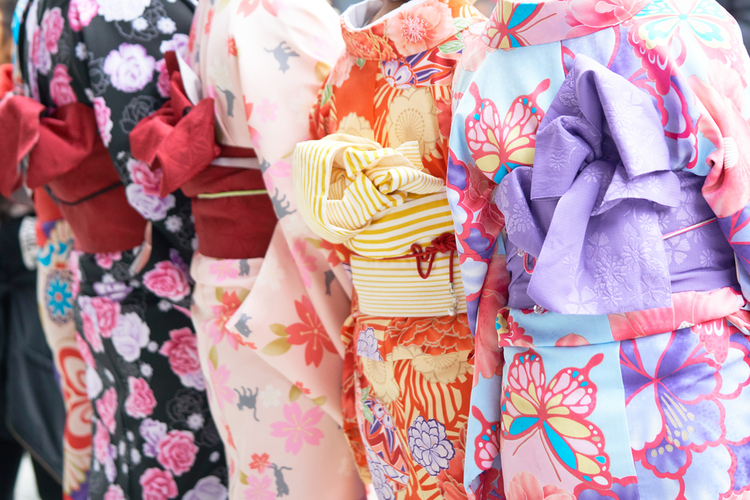 Kurotomesode: Black kimono patterned only below the waistline.

Formal Kimono for married women. It is worn for family events, such as weddings.

Furisode: Kimono with long sleeves whose average length is between 39 and 42 inches.

Formal kimono for unmarried women. It is commonly worn for a coming-age ceremony.

Irotomesode: Non-black kimono patterned only below the waistline. Formal Kimono for married and unmarried women. It is worn on non-family events.

Houmongi: Kimono with patterns that flow over shoulders, seams and sleeves. It is slightly casual and are suitable for various types of party.

Tsukesage: Kimono that is not as formal as Houmongi.

Iromuji: Non-black colored kimono. The dyed silk is used.

Komon: It is characterized with stencil dyeing and a pattern flowing all over kimono, and is used for a wide range of purpose.

Tsumugi: It is used on daily basis.

Yukata: Kimono for summer events.

Mofuku: Formal mourning Kimono.
How to wear Kimono
Kimono's shape and size do not vary in comparison with western clothing.

It is more adjustable and flexible to make fit your body, which is considered as a big advantage.

"Kitsuke", which means the way to wear Kimono in a Japanese customary manner, is not as difficult as thought, once you get used to.

Have you ever seen someone wearing Kimono?

Here, you can learn how to wear kimono.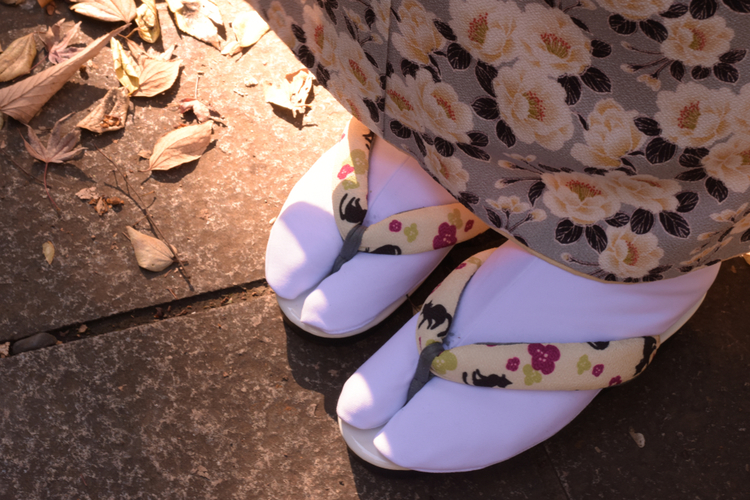 At first, put on a pair of white socks, "Tabi" (split-toe-socks), and put on the slip called " Nagajuban" on top of your underwear.

Nagajuban, which is designed to show a part of the collar and the sleeves stylishly, and is smaller than kimono.

Put on the kimono, making sure the sleeves of the Nagajuban are inside the sleeves of the kimono.

When wrapping the right side of the kimono towards the lefts side of your body, adjust the kimono collar to show the Nagajuban collar slightly and evenly around your neck.

Pull the kimono's end up to adjust the lengths.

Then, blouse over the extra fabric, and tie a chord below it. Straighten it out and pull it down to cover the chord.

After adjusting the waist and the collar, tie the Date-jime belt around the pit of the stomach.

Wrap the obi and slide it to your back.

Straighten yourself out and tighten it at the center with "Obi-shime." (a thin chord)

There are various types of obi knots, such as "Otaiko" and " Bunko musubi" which require expertise to make a perfect shape because of the most difficult part of " Kitsuke".

Hence, kimono's aesthetics come down to the quality of "Obi" knots.

In recent years, pre-shaped obi, " Tsukeobi", has been used widely.

It is noteworthy that specialists of dressing are called upon every special occasion as decorative and complex kimono is mostly favored, such as a wedding ceremony.
Charm of Kimono
The most attractive element of kimono is that dressers can choose and present seasonal beauty.

The straight-line shape enhances the finesse of woven patterns, dynamism of design and brightness of colors.

With the fantastic features, people can enjoy kimono depicting the change of the four seasons brilliantly.

Seasonal symbols are traditionally woven in kimono and obi.

In choosing it, going for the pre-seasonable symbol is the best.

For example, cherry-blossom colored kimono with obi woven full-blown cherry blossoms for the girls' festival in spring.

For a formal meeting before coming into full bloom, black-colored kimono with obi tinted with golden color will be nice.

In early summer, a blue fine patterned Kimono with obi of calamus pattern.

In summer, silk gauze or linen that represents coolness can be a good choice.

For outdoor evening events, "Yukata" that is a kind of Kimono, made of cotton and obi with the pattern of fireworks or golden fish will be perfect.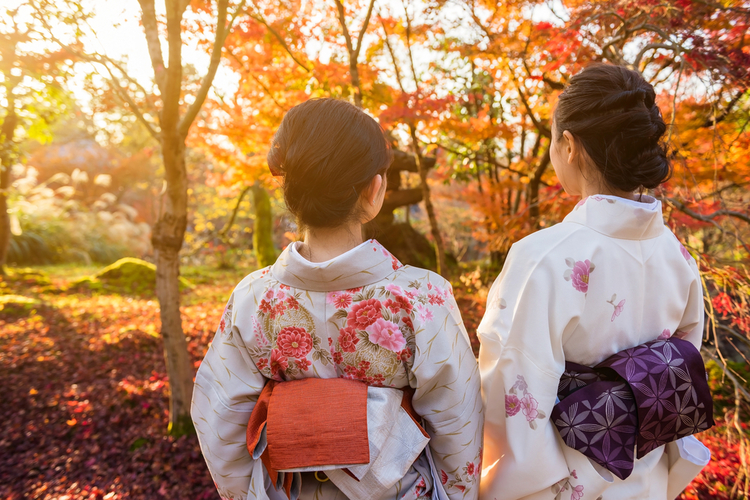 In autumn, warm-colored kimono like brown or purple with thicker obi will be a good reminder of the autumn's arrival.

In early winter, a milky colored kimono conjuring up the image of the first snow with Christmas-colored obijime(a chord to hold an obi) will be stylish.

For New year party, why not going for a pine, a bamboo and an apricot trees or vibrant patterns? It will pep up your mood on the special day.

The most enjoyable element of kimono is coordination.

You can enjoy doing DIY as you like. A single kimono will bring a variety of style with a combination of colorful obi and accessories.

According to a season, time, place, or a purpose, different arrangement is available.

There are numerous accessories, such as Obi-age (a scarf-like sash) for forming obi, Obi-jime for holding obi in place, and Han-eri (a collar of Nagajuban).

In line with kimono and obi, you have to select suitable accessories carefully.

This process is nice and fun.

More importantly, it will help to develop your aesthetic and coloring sense.

Kimono and obi are manufactured throughout a complicated process involving with various techniques.

Likewise, professional skills and techniques are seen in each accessory, which plays a supporting role.

Throughout kimono experience, you will discover amazing facts of Japanese traditional crafts, which may bring a fantastic chance to find new-self.
「Traditional crafts」Categories